CHaOS events are only possible with the generous support of a number of sponsors. If you would be interested in sponsoring our future events, please get in touch using the contact form.
Throughout the year, CHaOS takes our wide range of hands-on science experiments on tour and runs sessions in schools and family-friendly events at public venues across the country, seeking to show as many people as possible how science is fun, interesting and relevant!
We also strive to show that science is something everyone can get involved in. We focus on visiting easily-accessible venues in areas with fewer opportunities for exploring science and CHaOS' public events are free to visit in order to ensure we can engage as many people as possible. School visits are offered well below cost price, with the nominal fee frequently reduced or waived if the school could not otherwise host a visit.
This is made possible with the support of a large team of student volunteers, who must be accommodated, fed and transported to/from the roadshow and venues. A more detailed breakdown can be found below.

In all, the 7 week Summer Roadshow costs around £16000 a year, and reaches 5000-6000 people at a cost of around £3 per head. We also run and attend events in Cambridgeshire and East Anglia throughout the year – including our Winter Roadshow of local schools, IOP Physics Fests and fairs such as the Mill Road Winter Fair and Strawberry Fair – altogether costing up to £3000 annually. A typical cost breakdown of these events is included below.
All of our experiments are thoroughly risk assessed, with the risk assessments being checked annually by the University of Cambridge safety office. Our activities are fully insured, under the University's public liability insurance. Further details of policies on health and safety, safeguarding, privacy and equal opportunities can be found here.
Statistics based on Crash, Bang, Squelch! 2019 (49 adult and 65 child questionnaires) or Summer Roadshow 2019 (224 visitor questionnaires). More examples can be found in our Roadshow Reports.
Learnt "A lot" or "Quite a lot"
Became more interested in being a scientist
Stayed at least 30 minutes
During primary school visits we often run a "Draw A Scientist" activity to assess how we are changing perceptions of science and scientists amongst young people. Pupils are asked to draw a scientist and label them with around 5 key words to describe what a scientist is, what a scientist looks like or what a scientist does.
Before starting the hands-on activities we frequently get negative, stereotyping descriptions including as "evil", "mad" and "crazy"; afterwards, more than half of such descriptors are dropped in favour of more positive labels such as "nice" and "cool" – on the 2019 roadshow these rose by 150% and 1100% respectively! This indicates a humanising impact on scientists and science of our activities.
We also look at the diversity of the drawings. While beforehand we have a lot of apparently male figures with crazy hair in white lab coats carrying out explosions, afterwards we see more everyday figures, and typically a 30-50% increase in the number of figures judged to be female.
In all we see this as a clear demonstration that a visit from CHaOS has a beneficial impact on perceptions of scientists and helps inspire more children to realise that that "anyone can be a scientist".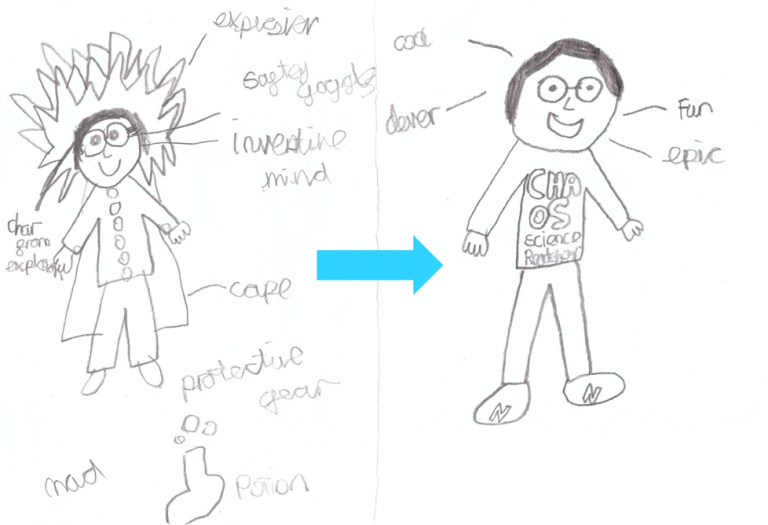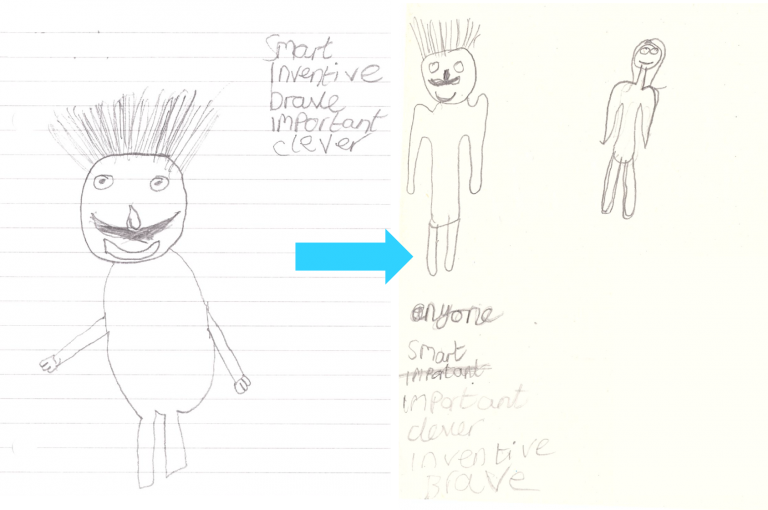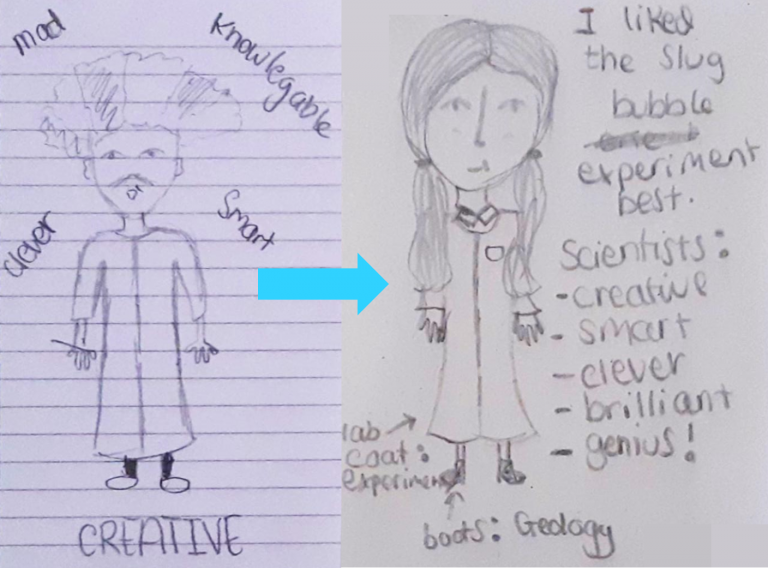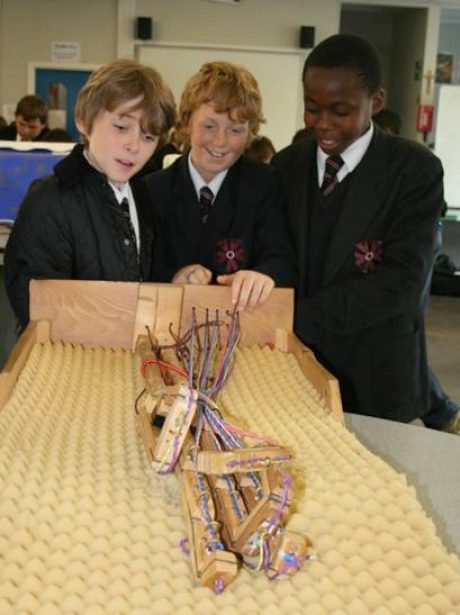 In 2019, we asked children who visited Crash, Bang, Squelch! whether they were interested in becoming a scientist or a doctor before the event, and whether this had changed. Before the event 50% of the young people answered "yes" or "maybe" to this question; after the event this number had increased to around 75%.
In 2018, our Crash, Bang, Squelch! evaluation sought to measure the scientific background of the families we saw by asking how often they engaged with certain scientific activities. The category of respondents who engaged with scientific activities least frequently saw the most improvement in how the adults rated their child's interest in science, with an increase from 35% choosing "A lot" before the event to 65% afterwards. This shows that our hands-on approach is successful in engaging the interest of groups no matter what their background.
We also regularly hear from teachers that we have raised aspirations amongst their students. In 2018, one teacher, from a school in an area with very low participation in higher education, related how some "expressed a wish to attend Cambridge University themselves in the future as they found the experience inspirational." In 2019, one school surveyed the students that took part in the activities; the data they provided showed the fraction reporting they "enjoy science" increased in relative terms by 65% and there was a 53% relative increase in the proportion of students who would "consider science as a possible career choice". Another teacher reported "lots of smiles and discussion about the morning" and that "others had returned to school and told friends about the morning."
Finally, each year we find that one or two new student demonstrators have previously been inspired by CHaOS events themselves (see "Meet Andy").
We are always looking to work with sponsors to help promote STEMM subjects. We routinely promote our sponsors here on our website, as well as at our events through the use of our "About CHaOS" board which we situate near the entrance of public venues. At Crash, Bang, Squelch!, sponsor logos are included on posters, electronic display screens, and signage, as well as at the end of talks. We also use our social media to raise awareness of our events and the activities we are doing that day, and we can include your event or programme tags in our posts to direct our followers towards similar resources. After the Summer Roadshow and Crash, Bang, Squelch!, we distribute a report on our activities which details the generous sponsors that made the event possible.
If you have any other ideas, or would be interested in sponsoring one of our electronic resources, such as one of our Experiment Files or a video, please get in touch with us.
What happens to sponsorship money?
Although exact costs vary year-to-year, the figures below outline a typical annual expenditure on the Summer Roadshow (which reaches around 6000 people annually) and for our Cambridgeshire Events, particularly Crash, Bang, Squelch! (which attracts around 2000 people annually).
CHaOS is a registered student society of the University of Cambridge, and our accounts are reviewed annually by the university.
| | | |
| --- | --- | --- |
| Equipment and Expendables | £1500 | We are constantly developing and testing new ideas for the roadshow, which requires equipment purchase. Moreover, demonstrations occasionally need fixing and some experiments use expendable materials. |
| Vehicle Hire and Costs | £4500 | We hire a van to transport our experiments to events and an MPV to transport demonstrators. Fuel for these vehicles, or any necessary maintenance, is also included in this cost. |
| Demonstrator Travel Expenses | £3500 | While our demonstrators are volunteers and are not paid for their time, they are reimbursed (up to a sensible amount) for their travel to and from the roadshow. Advanced fares and split ticketing are encouraged. |
| Demonstrator Accommodation | £3000 | We keep costs to a minimum by camping throughout the roadshow and making use of cheap campsites such as those owned by Scouting organisations. |
| Food and Subsistence | £3000 | We provide all food for our volunteers. We cook communal meals on stoves to keep costs to a minimum. |
| Delivering Events | £500 | On rare occasions, we have to pay fees for venue hire. We also have printing costs associated with admin such as risk assessments, and publicity costs for posters and targetted adverts on social media. |
Equipment and Expendables

We are constantly developing and testing new ideas for the roadshow, which requires equipment purchase. Moreover, demonstrations occasionally need fixing and some experiments use expendable materials.

£1500

Vehicle Hire and Costs

We hire a van to transport our experiments to events and an MPV to transport demonstrators. Fuel for these vehicles, or any necessary maintenance, is also included in this cost.

£4500

Demonstrator Travel Expenses

While our demonstrators are volunteers and are not paid for their time, they are reimbursed (up to a sensible amount) for their travel to and from the roadshow. Advanced fares and split ticketing are encouraged.

£3500

Demonstrator Accommodation

We keep costs to a minimum by camping throughout the roadshow and making use of cheap campsites such as those owned by Scouting organisations.

£3000

Food and Subsistence

We provide all food for our volunteers. We cook communal meals on stoves to keep costs to a minimum.

£3000

Delivering Events

On rare occasions, we have to pay fees for venue hire. We also have printing costs associated with admin such as risk assessments, and publicity costs for posters and targetted adverts on social media.

£500
| | | |
| --- | --- | --- |
| Equipment and Expendables | £1000 | Crash, Bang, Squelch! often debuts new experiments, and equipment is needed for the demonstrations in talks. Moreover, some experiments use expendable materials which must be replenished throughout the year. |
| Vehicle Hire and Transport | £800 | We hire a van to transport our experiments to events. Volunteers are encouraged to walk or cycle to events where possible, otherwise we pay for their tickets on public transport. |
| Demonstrator Accommodation | £0 | Volunteers stay in their usual accommodation with no charge to CHaOS. |
| Food and Subsistence | £1000 | Where not provided by some wider host or organisaer, we provide lunch and snacks for our volunteers during all our Cambridgeshire Events and during the setup and packdown of Crash, Bang, Squelch! |
| Delivering Events | £200 | On rare occasions, we have to pay fees for venue hire. We also have printing costs associated with admin such as risk assessments, and publicity costs for posters and targeted adverts on social media. |
Equipment and Expendables

Crash, Bang, Squelch! often debuts new experiments, and equipment is needed for the demonstrations in talks. Moreover, some experiments use expendable materials which must be replenished throughout the year.

£1000

Vehicle Hire and Transport

We hire a van to transport our experiments to events. Volunteers are encouraged to walk or cycle to events where possible, otherwise we pay for their tickets on public transport.

£800

Demonstrator Accommodation

Volunteers stay in their usual accommodation with no charge to CHaOS.

£0

Food and Subsistence

Where not provided by some wider host or organisaer, we provide lunch and snacks for our volunteers during all our Cambridgeshire Events and during the setup and packdown of Crash, Bang, Squelch!

£1000

Delivering Events

On rare occasions, we have to pay fees for venue hire. We also have printing costs associated with admin such as risk assessments, and publicity costs for posters and targeted adverts on social media.

£200