We are CHaOS! Cambridge Hands-On Science! We are the student run science outreach society at the University of Cambridge. For about 20 years we have travelled across the country on our summer roadshow, to spread our enthusiasm for STEMM (Science, Technology, Engineering, Medicine, and Mathematics). We would like to see you there, so this page should help you decide when to meet us! We are booking more venues, this page will be updated once they are confirmed.
These events are for the public, and we are very family friendly, with the events open to all ages. Also, you do not need to sign-up for the events, but we recommend that you visit our Facebook page and let us know if you are coming along.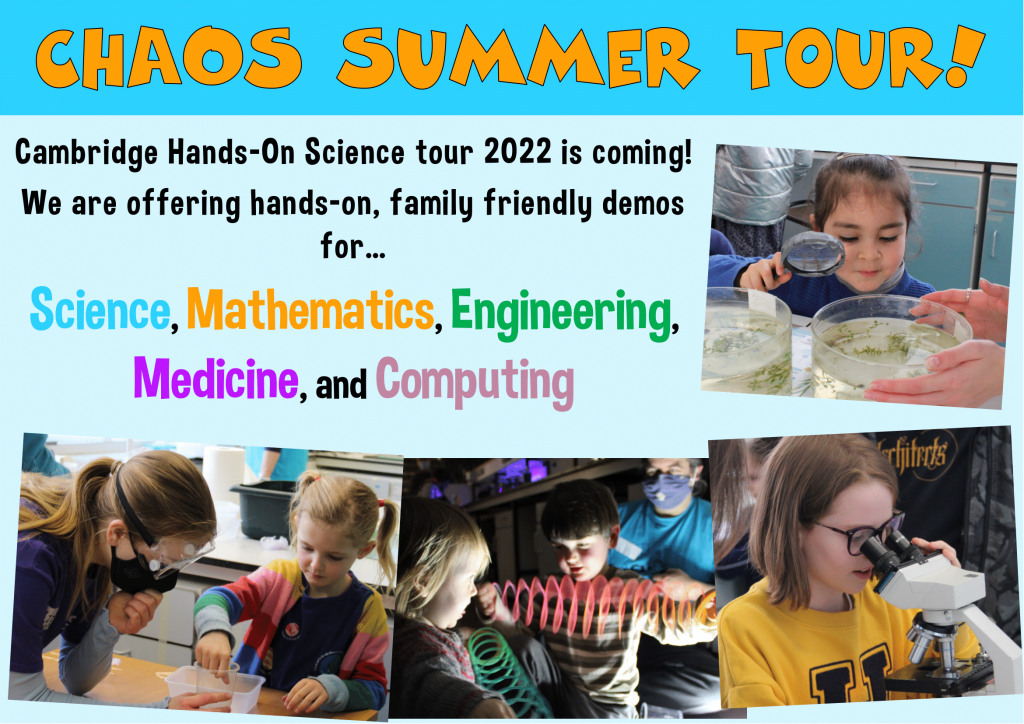 Norfolk (8th- 9th July)
Bressingham Steam & Gardens (Saturday 8th and Sunday 9th July)

Time : 10:30am to 5:00pm
Address : 

Low Rd, Diss IP22 2AA

Please note that 

a valid ticket is required for these event



Birmingham/Leicestershire (15th – 16th July)
Dudley Library (Saturday 15th July)

Time : 9am to 3:30pm
Address :

St James's Rd, Dudley DY1 1HR

Red House Glass Cone (Sunday 16th July)

Time : 11am to 3:30pm
Address :

Red House Glass Cone, High Street, Stourbridge, DY8 4AZ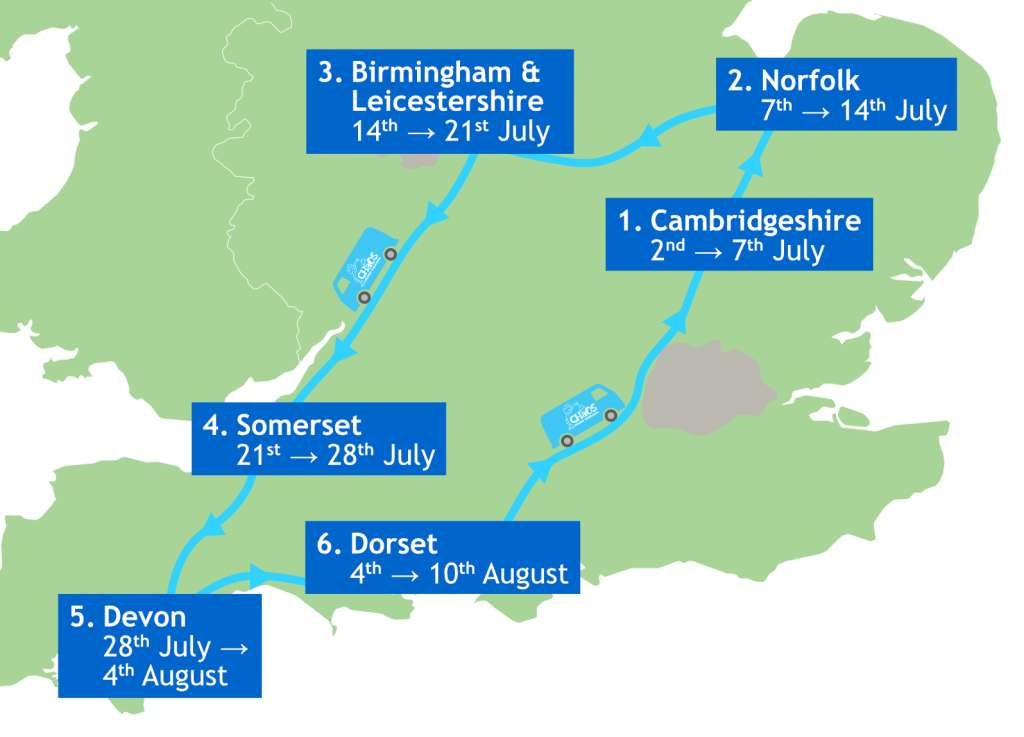 Somerset 22nd – 27th July
Devon 29th July – 3rd August
Pavilions Teignmouth (Monday 31st July)

Time : 10 am to 3 pm
Address : Den Cres, Teignmouth TQ14 8BG, United Kingdom
Torquay Museum (Wednesday 2nd August)

Time : 10 am to 4 pm
Address : Museum, 529 Babbacombe Rd, Torquay TQ1 1HG
Please note that

a valid museum ticket is required for this event
Dorset 5th -10th August
More events will be added soon!
Weymouth Library (Saturday 5th August)

CANCELLED – REPLACEMENT TO BE ANNOUNCED SOON!

Swanage Pier (Sunday 6th August)

Time : 11 am – 4 pm
Address : Pier Approach, Swanage BH19 2AP

Upton Country Park (Monday 7th August)

Time : 11 am – 5 pm
Address : Poole Road, Upton, Poole, BH17 7BJ

Poole Library (Tuesday 8th August)

Time : 12 pm – 5 pm
Address : Kingland Rd, Poole BH15 1QE

Bournemouth Central Library (Wednesday 9th August)

Time : 12 pm to 5 pm
Address : 22 The Triangle, Bournemouth BH2 5RQ

Swanage Railway (Wednesday 9th August)

Time : 11 am to 4 pm
Address : Swanage Station, Station Approach, Swanage BH19 1HB