CHaOS have over ten years of experience running science roadshows, and over this time we have learnt what makes an event work well. We expect you to read through this guidelines before booking a visit, to avoid any misunderstandings or problems on the day.
These guidelines are for a typical CHaOS Science Roadshow visit to a school. Variations from these standard terms and conditions may be possible, but must be discussed with your CHaOS contact at the time of booking in order to ensure that everyone gets the greatest value from the visit. Once we've agreed the details of each school visit with the organising teacher or member of staff we usually write these down in an individual "contract", so that we can check that everyone agrees what will happen on the day.
If you have any queries about these guidelines please don't hesitate to contact the CHaOS team, as our main interest is to make school visits fun and as easy as possible for everyone.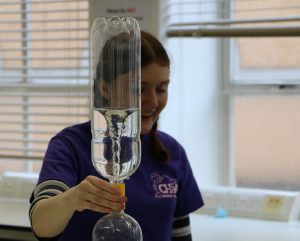 1. What You Can Expect From CHaOS
Around 12 enthusiastic volunteer scientists or "demonstrators", each staffing a fun hands-on science experiment. Most of our demonstrators are science students at the University of Cambridge, though we often bring graduates too!
All of the specialist equipment and expertise needed to run the event.
Sessions aimed at a level that is engaging and exciting for pupils in years 5-8 / ages 9-13. (See also next section)
Sessions in which small groups of around 5 pupils move around the experiments, getting the chance to see several different things during the session. These sessions are designed for 50-60 pupils unless otherwise discussed.
A whole day of sessions: we can host up to 300 pupils in one day. If there are fewer than 200-300 pupils in years 5-8 at your school, we would suggest variations on a standard visit, such as a half day or a combined visits with another nearby school.
Prompt and helpful answers to any queries that you might have about the event, and a willingness to be as flexible as we can be with how the event is run.
Good value for money. Our charge to schools usually represents less than half of the full cost of the visit, with the remainder coming from external sponsorship raised by us. This makes the cost of a CHaOS visit compare extremely favourably with, for example, a visit to a science museum.
You will be glad to know that we take safety extremely seriously, in particular note that:
Each of our experiments is individually risk-assessed by competent members of the CHaOS Committee, and these risk assessments can be made available on request. 
These risk assessments are checked each year by appropriate staff members of the University of Cambridge.
Mains electrical items are subject to PAT testing by the Health and Safety Department of the University of Cambridge annually.
Our Safeguarding Policy is detailed below in Section 3.
CHaOS events are covered by public liability insurance, under the University of Cambridge Public Liability Insurance. Further details are available on request.
2. What CHaOS Expects From You
We are keen to make this event as educational and exciting as possible for your pupils, as well as hassle-free for all of the staff at your school. In order to do this, we expect the following from you:
2.1: Space
Sufficient indoor space to host the Roadshow. This is usually either a school hall or two adjacent large classrooms. Do think about whether there is enough space for up to 60 of your pupils engaged in practical activities in 10 small groups.
Access to 6-10 tables/desks to set out some of our experiments, along with some electrical power and ideally access to a water tap (possibly in a different room).
Outdoor space is great as it allows us to run some of our messier or larger experiments if the weather is good.
2.2: Format of the sessions.
Children should be with CHaOS for between 45 and 75 minutes (ie: the length of a typical lesson), and should be in year groups 5 to 8 (ages 9-13). Variations on this may be possible but requires further planning on our part and must be agreed to in advance.
Each session has a capacity of 50-60 pupils. If there are more pupils than this it is not possible to run each activity as a hands-on event
Our demonstrators require a lunch break.
For a standard full-day visit we expect to see 200 – 300 pupils. If your school is too small for this, we recommend a joint visit with a nearby school.
2.3: Supervision by school staff
We expect that members of school staff will be present to supervise the event; at least one member of staff per area/room.
Many members of staff (including non-scientists) comment to us how much they enjoyed spending a lesson seeing their pupils engaged in practical activities!
CHaOS does not provide first-aiders, and we expect to be informed how to contact a school first-aider on the day of the visit.
2.4: Setting up our experiments
We need 1½ hours to set up our equipment for the roadshow, so typically need letting in by 7:30.
We will usually bring three vehicles: an equipment van, a MPV and a car, and expect to park these at the school. It's very useful if we can temporarily park the van near to where we're demonstrating for unloading.
It's disruptive for us if we have to move our equipment during the day. If your hall is essential for school lunch it might be easiest if we can set up in two classrooms instead.
3. The CHaOS Safeguarding Policy
We recognise that child protection, and the legal issues surrounding it, is increasingly important for schools today. As such, CHaOS have an up-to-date, extensively-researched Safeguarding  Policy, which can be found on our website here. In particular, please note that:
For school visits in July, all demonstrators present will have applied for enhanced disclosures from the DBS. The CHaOS child protection officer assesses DBS disclosures to ensure that volunteers meet the relevant requirements of our safeguarding policy.
CHaOS stores information on whether demonstrators have a valid DBS disclosure, along with sufficient information to relate the DBS disclosure to a named volunteer should a query arise. However, note that we are not legally allowed to show schools DBS disclosure forms for individual volunteers.
Recently, some schools have required all demonstrators to present photographic ID. This will only be possible if you have informed us that this is required by June 1st (for a Summer visit) or at the time of booking for other CHaOS visits, and in some cases may incur additional costs.
Where we can, we like to take photographs of events to use for CHaOS publicity purpose. We are aware that this is not always possible, and we will respect your school's policy. However, please let us know if this is an option, or if you'll be taking photographs yourself and are able to share!
4. Costs of a CHaOS School Visit
The standard financial contribution required from schools in 2020 is £150 for a day visit from Cambridge, or £200 for a Summer event where we will need to camp near your school. This can be adjusted for schools in difficult financial circumstances if agreed by the CHaOS Committee in advance of confirming your booking.
Away from Cambridge most school visits costs us about £600 to run, not counting the contribution of the time of our volunteers, so we believe this is very fair.
It is helpful if your school can provide us with lunch, as this minimises the amount of time demonstrators must spend shopping for and preparing lunch during the day.
The agreed total contribution will be billed as an invoice that we will either email to the school following the event, or bring on the day of the event, and is usually payable within one month of the visit.
5. Confirming Your Booking
If we're travelling away from Cambridge to visit you, we may need to make you booking provisional until we can find other nearby schools who'd also like us to visit, but we'll make this clear in our emails to you.
Once we've confirmed the date of your booking we will do our absolute best to maintain this commitment.
We ask that you also maintain the commitment to hosting the visit, as the CHaOS Science Roadshow can only visit a limited number of schools each year and we have to turn away many schools who request visits from us.
6. Extras For Your Visit
CHaOS want to make the most of each school visit: please let us know you've got any more ideas for fun things on the day! In the past we've been interviewed by the school newspaper and the local papers and radio, run after-school sessions for parents as well as the kids, had lunch with sixth formers, and have put on extra talks for year 9s. Please get in contact with us if you have any questions or ideas.